WaveMachine Labs has announced the release of Modern Drummer Snare Drum Selects Volume One and Morevox DriveDrums, two new sample libraries for Drumagog.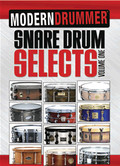 About Modern Drummer Snare Drum Selects Volume One:
Developed to meet the needs of professional record producers and sound engineers as well as drummers and home-recording enthusiasts, Modern Drummer Snare Drum Selects Volume One is a GOG collection of studio-quality sound samples taken from a dozen state-of-the-art drums, all of which have been chosen by the editors of Modern Drummer magazine for its prestigious "Snare Drum Of The Month" column. The drums represent a selection of some of the latest and greatest in metal and wood shell designs and tonalities and were digitally recorded and mastered by leading drum technology specialist, John Emrich (frequent Modern Drummer contributor and creator of many of FXpansion's BFD2 sample libraries).
Modern Drummer Snare Drum Selects Volume One features
Each drum is meticulously tuned and recorded in a multimicrophone format to showcase its unique sonic properties and offer the end user maximum flexibility.
88 total snare GOGs, featuring twelve snare drums with four articulations (center, rim click/sweep, rim shot, and cross stick).
Efficiently and economically offers the highest levels of sonic variety and quality to virtually any producer, programmer, or player.
Recommended for use in home and professional studio recording situations as well as live performances with electronic drums or acoustic drum triggers.
Allows easy triggering of high-definition drum sounds for sound replacement of recorded drum tracks, in electronic drum performance, or programmed beats.
Modern Drummer Snare Drum Selects Volume One is available now for $89.95 USD, and can be purchased from the Drumagog online store.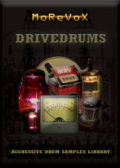 The recently released DriveDrums by MoReVox is now also available from WaveMachine Labs.
Morevox DRIVEDRUMS has been developed by generating distortion through different kind of devices. Vacuum tubes, analog tape, preamps have been used to create samples with light to aggressive, violent distortion. Morevox DRIVEDRUMS contains RICH and FAT natural acoustic sounds ideal for every genre. All samples are been tested on mixes and optimized for triggering and stand alone use.

Morevox DRIVEDRUMS contains 30 Kicks, 30 Snares, 6 Toms Racks, 30
Cymbals and more for a total of 850 Samples (24Bit, 44.1khz).
DriveDrums is available for purchase as a digital download for $99 USD, and $129 USD for a DVD version.
WaveMachine Labs is also running a special promo for DriveDrums:
With any purchase of Drumagog Pro or Platinum from drumagog.com, MoReVox DriveDrums Download is only $49. This special price is available until March 31, 2009.
Visit the Drumagog website for more information and audio demos.