WaveMachine Labs has updated its Auria multitrack recording app for iPad to version 1.141.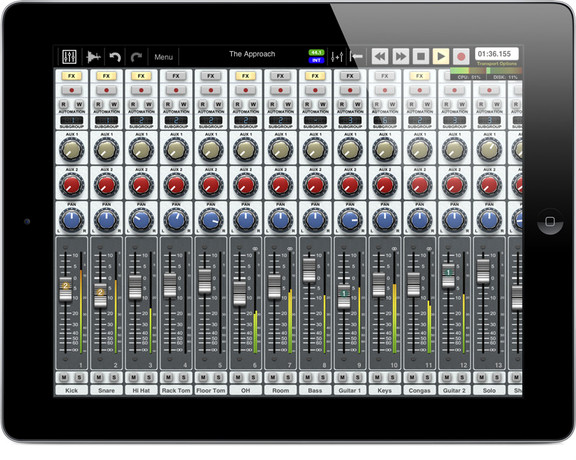 With the ability to play 48 mono or stereo 24bit/96 kHz tracks simultaneously, record up to 24 of those tracks simultaneously (through a supported USB multichannel audio interface), and edit and mix with familiar tools and full parameter automation, it's clear Auria sets a new standard for iPad multitrack recording.

What's more, Auria's 64-bit Double Precision architecture ensures ample headroom for plug-in processing and mix summing, transforming your iPad into a recording and mixing studio with sound quality that rivals most DAWs.
Changes in Auria v1.141 features
New Plugin: FabFilter Pro-MB.
Fixed: iOS7.1 bug related to 96K projects.
Fixed: Low volume issue – added option for speaker/mic processing in settings.
Fixed: Auto-input monitor – Auria now mixes the input with the playback audio automatically.
Fixed: Change to Audiobus when using Auria in the input slot (made Master the default port).
Fixed: New versions of WOW and Turnado fixing various bugs.
Fixed: New versions of all FabFilter plugins, which fix the spectrum analyzer issue.
Fixed: New versions of all the FXpansion plugins, fixing various bugs.
Fixed: Issue with Auria incorrectly reporting the transport state and positions to IAA plugins.
The app is available for purchase from the iTunes App Store for $24.99 USD.
More information: WaveMachine Labs / Auria