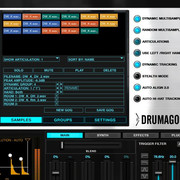 WaveMachine Labs has released version 5.1 of Drumagog, a a real-time drum replacer plugin for Windows and Mac.
Drumagog 5.1 contains both new features and a number of bug fixes, including the all-new BLEED REDUCTION feature.
Changes in Drumagog v5.1
Bleed Reduction feature allows Drumagog 5 to eliminate other drums from bleeding into a track and adding unwanted triggering. Simply setup Drumagog on each affected track and it will automatically remove the bleed. Check out Bleed Reduction in action here.
Added a "DIRECT" fader when using GOG files with room sounds.
Added License File authorization method.
Added support for Auto Hi-Hat Tracking in Plug-in Hosting and MIDI Output.
Added new Auto Hi-Hat control for adjusting choke level.
Added ability to save a GOG file copy with a new name.
Added Over 2 GB of samples to free library. Now includes the entire Rock Drums 3 and Ultra Drums libraries from Farview Recording. Free library is now nearly 7 GB total.
Fixed Auto Hi-Hat Tracking instances with extremely fast hits.
Fixed issue when using MIDI or Plug-in Hosting in Live Triggering Mode.
Fixed issue where Default GOG folder setting did not always save.
Fixed issue where not all GOG file settings always saved in projects.
Fixed sample list display issue when working with large GOG files.
Fixed issue with Stealth Mode & Auto Ducking controls not displaying properly.
Resolved issue in Basic version for those who previously had Demo version installed.
Fixed issues with automation and preset management in Pro Tools.
Fixed issue when saving a Pro Tools project while hosting BFD2.
The update is available to Drumagog 5 owners at no cost.
More information: WaveMachine Labs