Waves Audio has announced a flash sale with deep discounts of up to 91% off regular on plugins used by Grammy winning engineers.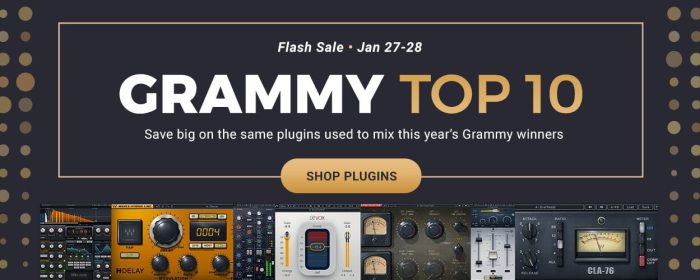 It used to be, Grammy winners could only hail from a million-dollar studio.

Luckily, now is different: this year's biggest Grammy recordings, from Billie Eilish to "Old Town Road," were conceived in humble home studios with super-affordable software. This is a revolution—and we're so thrilled to be contributing our share!

To celebrate, take advantage of our two-day Grammy Top Ten flash sale: super-affordable offers on top ten plugins chosen by top players at this year's Grammy Awards—producers/engineers Rob Kinelski (Billie Eilish) and Andrew Bolooki (Lil Nas X).
The sale includes:
The sale runs through January 28th, 2020.
More information: Waves Audio