Waves Audio has announced the release of a new powerhouse multiband modulation rack for Waves' latest distortion plugins. The MultiMod Rack allows you to create the wildest palette of modulatable distortion FX and achieve multiband distortion with surgical precision.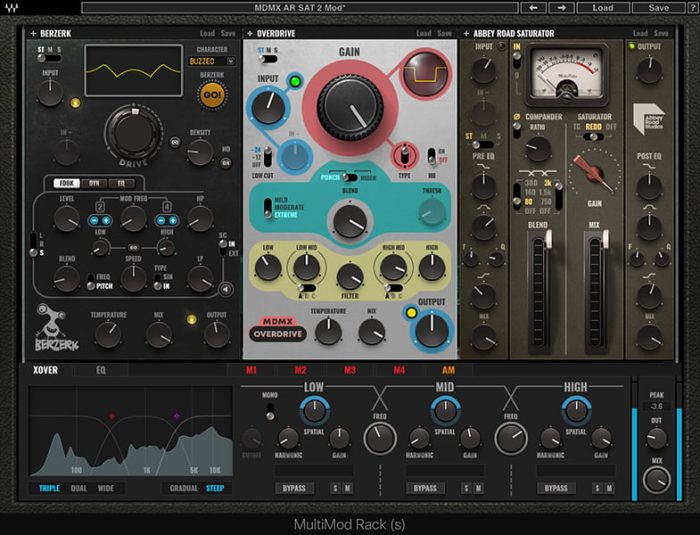 MultiMod Rack is a 3-slot plugin rack that can host Waves' latest distortion and saturation plugins. Each slot can host the analog warmth of Abbey Road Saturator, the futuristic waveshaper sounds of the Berzerk distortion plugin, and the crunchy old-school tones of the MDMX Screamer, Overdrive and Fuzz modules. The unique combination of diverse distortion colors, all working side by side, makes MultiMod the most versatile distortion and saturation suite in existence.

MultiMod's three slots divide your signal into three frequency bands—lows, mids, highs—with adjustable crossover controls. Want the insanity of Berzerk on your lows, the crunchy overdrive of MDMX on your mids, and analog Abbey Road saturation on your highs? Easy. Assign the different plugins to different frequency bands, and separately control the flavor of distortion in each.

Simply reshuffling the chosen plugins between frequency bands will significantly change the sound, for serious tonal diversity. Each band also offers controls for level, stereo panning and harmonics, for pinpoint control of the distortion in each frequency area.
MultiMod Rack features
3-slot rack for modulatable multiband distortion.
Hosts the Abbey Road Saturator, Berzerk & MDMX distortion plugins.
The world's most versatile distortion & saturation suite: Analog-modeled saturation to futuristic waveshaper distortion, all in one place.
Clever, easy-to-use multiband distortion with adjustable crossover points.
5 modulators allow you to modulate individual plugin parameters.
LFO, sequencer and amplitude modulation options.
Independent level, pan and harmonics controls per slot/band.
Modulatable 4-band paragraphic EQ.
Built-in FX: reverb, delay, chorus.
Hundreds of categorized factory presets to get you started.
Artist presets by producers/mixers Joe Barresi, Jacquire King, Michael Brauer, Devin Townsend, Juno Reactor & many more.
MultiMod Rack is on sale for the intro price of $49.99 USD for a limited time (regular $99.99 USD).
MultiMod Rack can host the Abbey Road Saturator, Berzerk and MDMX plugins, which can be bought separately or in these combos:
MultiMod Rack + Berzerk: $59.99 USD.
MultiMod Rack + MDMX: $79.99 USD.
MultiMod Rack + Berzerk + MDMX: $89.99 USD.
MultiMod is also available in the Mercury bundle. If you own Mercury with a current Waves Update Plan, simply update the bundle to get MultiMod Rack free of charge.
More information: Waves Audio