Waves Audio has announced that it is now shipping the Waves Clavinet, the latest addition to its expanding line of virtual instruments.

The original Clav has always held a special appeal in funk, fusion, rock and soul music for its unique percussive playability and sonic versatility, from brilliant, vibrant, nitty and gritty to soft, rich, mellow tones. Waves has now accurately sampled one of the funkiest keyboards in existence: the iconic D6 model Clavinet, made famous by Stevie Wonder, Led Zeppelin, Sly & the Family Stone and many more.

Recreating all the dynamic control, feel and expression of the original funkified icon, Waves has meticulously sampled every texture, articulation and hammer tip string-striking mechanic of the authentic D6 Clavinet in both the muted and unmuted modes.

Using only a few controls, you can achieve an array of deep sonic textures, capturing the distinctive timbre of the Clav's unique single-coil pickups. Choose from the selection of factory presets, featuring patches modeled after Stevie Wonder's "Superstition," Billy Preston's "Outta Space" and other classic songs; or shape your own tones using the built-in auto-wah, amp overdrive and other effects.
Waves Clavinet features
Sampled from the original D6 model Clavinet.
Built-in FX section including advanced auto-wah, phaser, chorus, reverb.
Full velocity response mix control with key up and mechanics features.
Customizable EQ section for further tone shaping.
Mute slider control for decayed staccato or mellow sustain.
Amp overdrive control with tube condenser and dynamic microphone selectors.
Global tune control; MIDI assignable.
32-bit & 64-bit.
NKS-ready for NI Komplete Kontrol and Maschine.
HD and SD sample libraries.
Can be used as a plugin or as a standalone instrument.
Powered by the Waves Sampler Engine (WSE).
The Waves Clavinet is on sale for the intro price of $29 USD (regular $69 USD).
The Clavinet is also included in the Waves Pianos & Keys Bundle, which is also shipping now.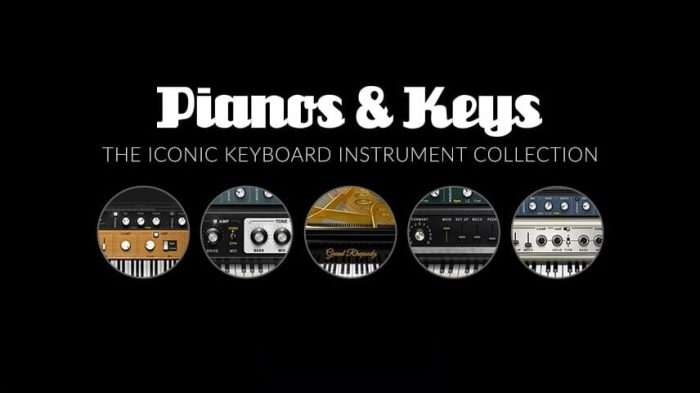 This iconic keyboard collection is a hand-picked suite of the electric and acoustic keys that have defined pop, rock, funk, soul and R&B, faithfully sampled and revived.

The pianos and keys in this collection capture every articulation, hammer-hitting tone and string-striking mechanic of the highly-coveted originals. Whether you're a professional keyboard player, a songwriter or a producer playing in the studio or live on stage, you will enjoy the true feel, expression and rich dynamic response of these authentic instruments.
The bundle includes 5 instruments:
Waves Grand Rhapsody Piano: Faithfully sampled from the Fazioli F228 grand piano at London's Metropolis Studios, using eight pairs of first-class condenser, dynamic & ribbon microphones.
Waves Electric 88 Piano: Captures all the soul and sweetness of two authentic, road-worn 88-key suitcase pianos; "Top of the class for Fender Rhodes VIs," remarks master keyboardist Jason Miles.
Waves Electric 200 Piano: Sampled from an original 200A-model electric piano to revive that classic, gritty, fat and majestic Wurly sound.
Waves Electric Grand 80 Piano: Delivering the era-defining polish and brilliant tones of the original hybrid electric-acoustic CP-80 model piano.
Waves Clavinet: Faithfully sampled from an original D6-model Clavinet made famous by Stevie Wonder, capturing every articulation of the original icon.
The bundle is available for the intro price of $145 USD for a limited time only (regular $299 USD).
More information: Waves Audio / Waves Clavinet