Waves Audio has launched its new Black Friday freebie Sililance, a vocal de-esser effect plugin.
Sibilance uses Organic ReSynthesis spectral filters to identify undesirable bursts of sibilant energy, and completely separates the nuances of sibilance from the vocal signal, leaving the rest of the signal untouched.
Powered by Waves' innovative Organic ReSynthesis technology, this transparent vocal de-esser removes harsh vocal 's' sounds faster than ever before, with exceptional quality – allowing you to make your vocals brighter without harshness.

Thanks to its Organic ReSynthesis engine, Sibilance allows precise identification of unwanted sibilant sounds such as 's' and 'sh', resulting in smooth, glitch-free, effective de-essing which maintains the timbre, duration, and natural resonance of the original vocal sound.
Sibilance features
Clever, fast, powerful de-esser specifically designed for vocals and voiceovers.
Smooth, glitch-free removal of harsh 's' sounds like never before.
Separates the sibilant parts of the vocal without changing the vocal's original tone.
Easy-to-use threshold and sensitivity controls.
Innovative sibilance detector powered by Waves' Organic ReSynthesis technology.
Sibilance detection graph to help you visualize the amount of 's' reduction.
Variable range modes: from wide to split-band processing.
The plugin is a free download during Waves Audio's Black Friday Sale.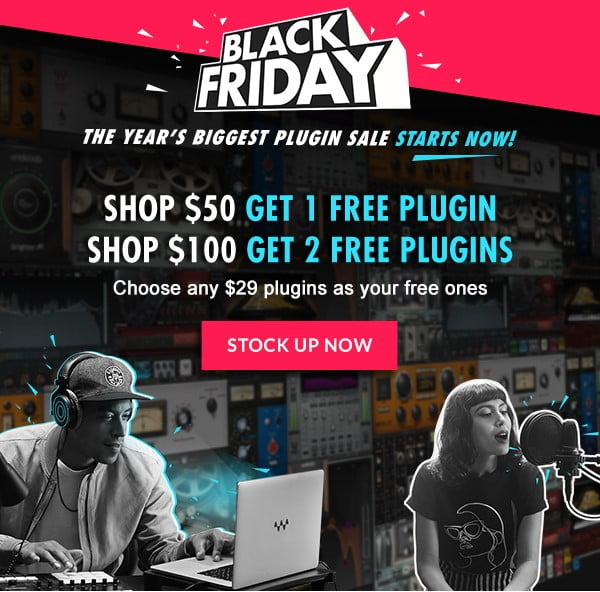 During the sale you can choose one free plugin (limited to plugins priced at $29 USD) if you spend $50 USD or more. Spend $100 USD and get 2 free plugins!
The sale ends November 25th, 2018.
More information: Waves Audio