Waves Audio has announced it is partnering with Propellerhead Software to give Reason 9.5 owners a free download of the Waves AudioTrack VST plugin.
Featuring high-quality equalization, compression and gating, AudioTrack provides an essential collection of audio processing tools, all within an intuitive and easy-to-use interface.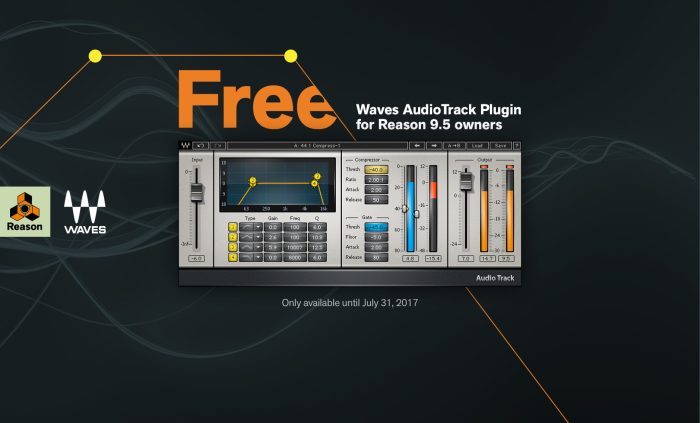 "We're thrilled to work with Propellerhead as they embrace the world of VST plugins," said Udi Henis, Waves International Marketing Manager. "Musicians love Reason's unique workflow, and we're excited for our customers to find new ways to use Waves plugins within Reason's modular environment."

"With VST support in Reason 9.5, we're excited to work with Waves and offer Reason 9.5 owners AudioTrack for free," said Mats Karlöf, Propellerhead Product Manager.

Delivering on the Reason community's most requested feature, Reason 9.5 introduces VST plugin support without compromising the software's acclaimed creative workflow. Drag and drop VST instruments independently, or add them into Combinators with Reason's own devices. Use CV and audio connections with VST plugins for a truly modular music-making experience. With the release of Reason 9.5, the Propellerhead Shop now features a range of VST plugins from leading developers including Waves Audio.
All Reason 9.5 owners can download Waves AudioTrack for free via the Propellerhead Shop. Offer ends July 31st, 2017.
More information: Waves Audio