Waves has launched SoundGrid Studio System, a real-time processing and networking platform designed to bring your studio up to light speed.
It allows your DAW to offload its plugin processing and enables your devices to communicate with one another and with the devices of the people you work with.

The SoundGrid Studio system integrates seamlessly with all DAWs and SoundGrid-compatible I/Os, providing endless possibilities for setups of every size—from a single DAW with one SoundGrid I/O, to an entire network of host computers, I/Os, and SoundGrid DSP servers.
SoundGrid Studio System features
Real-Time Processing – Run hundreds of plugins simultaneously.
Low-Latency Monitoring – Track and rehearse with full-on plugins in near-zero latency.
Networking – Connect everything and everyone through a centralized hub.
Seamless Integration – Connect multiple DAWs using the SoundGrid ASIO/Core Audio driver.
Open Architecture – Compliant with SoundGrid-compatible Waves and third-party plugins.
Components

SoundGrid Studio Application – For managing the SoundGrid network on your host computer.
eMotion ST Mixer – Low-latency monitoring for tracking and rehearsing.
StudioRack – For running plugin chains, saving & loading their presets, and offloading their processing to a SoundGrid DSP server.
SoundGrid ASIO/Core Audio Driver – Connects any DAW to the SoundGrid network as a software I/O.
StudioRack
StudioRack is an advanced software rack designed to save and run Waves plugin chains.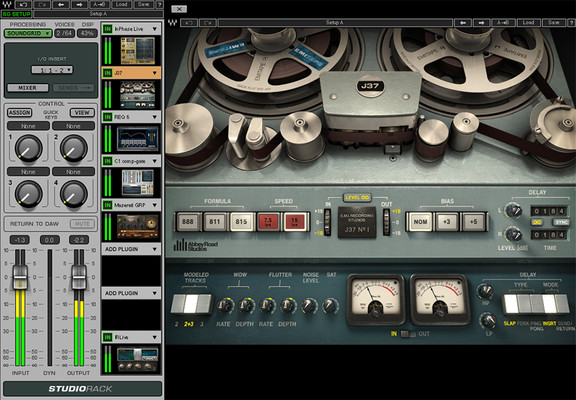 It is compatible with most DAWs and allows you to save your own plugin chain presets, including the individual presets of each plugin within your chain. And no matter on which DAW you saved your presets, StudioRack will load them on any DAW.
StudioRack features
Compatible with most DAWs.
Presets for plugin chains can be saved to and loaded from any DAW.
Up to 8 plugins per rack.
Fully automatable.
Quick access to plugin parameters within your chain.
Intuitive MIDI control over all plugins.
Avid Control Surface support.
StudioRack Native is free for Waves plugin owners covered by the Waves Update Plan.
MultiRack v9.7
MultiRack SoundGrid and MultiRack Native v9.7 bring many new advances and improved stability and are compatible with the new SoundGrid Studio System.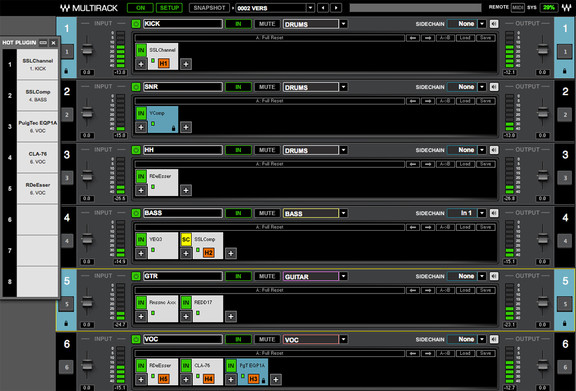 MultiRack 9.7 supports the new line of DiGiGrid I/O interfaces and continues to support Allen & Heath M-Waves, Yamaha WSG-Y16, and DiGiGrid MGB/MGO MADI interfaces.

As part of the groundbreaking release of the SoundGrid Studio System, all new 9.7 installer versions of Allen & Heath M-Waves, Yamaha WSG-Y16, and DiGiGrid MGB/MGO MADI interfaces include the new SoundGrid Studio Application with its SoundGrid ASIO/Core Audio driver, opening up a whole new world of possibilities.
MultiRack, SoundGrid Studio & StudioRack v9.7 downloads are now available from Waves.
More information: Waves