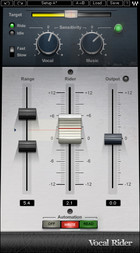 Waves has announced the release of Vocal Rider, an automatic level-riding plug-in.
Vocal Rider is the first of Waves pioneering new series of Mix tools. Simply put, Vocal Rider rides the levels of vocal tracks, automatically.

Instead of manually riding the physical mixing console fader, or tediously drawing in each individual level change on a DAW track, Vocal Rider does it for you, making it a true timesaver.

All you need to do is set the target range of the vocal level in relation to the rest of the mix. Then, Vocal Rider compensates for all deviations from the target, intelligently raising or lowering the vocal volume, instantly. And unlike everyday compression, Vocal Rider adds absolutely no additional coloring to the track.
Vocal Rider features
Keep steady vocal & dialog levels automatically.
Save time by automating the vocal riding part of the mixing process.
Write the automatic riding to an automation track for fine tuning.
Real-Time means no latency and no pre-scan needed.
Up to 24bit 96kHz resolution.
Supports TDM, RTAS, Audio Suite, VST, AU.
PC and Mac compatible.
Vocal Rider is available in native and TDM formats for $400 and $520 USD.
Waves has also announced Waves Version 7, an update to the Waves plug-in range.
Waves Version 7 represents the latest step in the evolution of Waves. With improved compatibility across the board, enhanced DAW and OS support, and a host of new features, V7 will take your Waves experience to new heights. There's never been a better time to update!
You can find details on what is new in Waves Version 7 here.
Waves Version 7 (including Vocal Rider) is available at no additional charge to all Waves products covered by Waves Update Plan.
More information: Waves / Vocal Rider