Waves Audio has announced its Top 25 Plugin Sale, offering a discount on selected audio plugins for a limited time.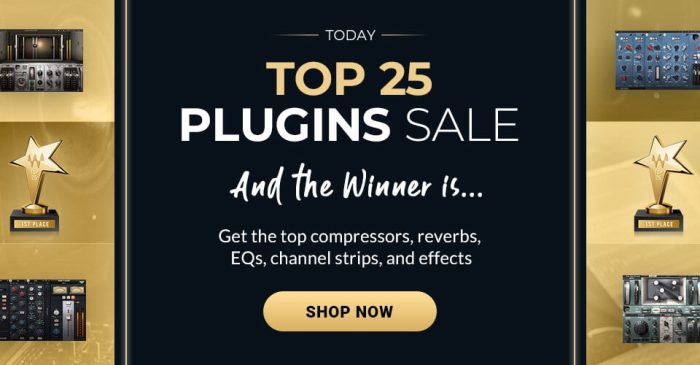 For a limited time only, get our most popular compressors, reverbs, EQs, channel strips, and effects + enhancers at prices you won't want to miss.
The promotion includes the following products:
SSL G-Master Buss Compressor.
CLA-2A Compressor / Limiter.
C6 Multiband Compressor.
Kramer PIE Compressor.
dbx® 160 Compressor / Limiter.
CLA MixHub.
Scheps Omni Channel.
Abbey Road TG Mastering Chain.
SSL E-Channel.
EMI TG12345 Channel Strip.
Waves Tune Real-Time.
Submarine.
Abbey Road Saturator.
OVox Vocal ReSynthesis.
Aphex Vintage Aural Exciter.
F6 Floating-Band Dynamic EQ.
SSL G-Equalizer.
PuigTec EQs.
RS56 Passive EQ.
Renaissance Equalizer.
Abbey Road Chambers.
H-Reverb Hybrid Reverb.
Abbey Road Reverb Plates.
Manny Marroquin Reverb.
Renaissance Reverb.
The plugins are on sale with prices starting from only $29.99 USD. The offer is valid for a limited time only.
More information: Waves Audio