Waves Audio has announced that it is now shipping the WRC-1 WiFi Stage Router, an advanced rack-mountable wireless router, designed specifically for pro-audio applications such as on-stage IEM control.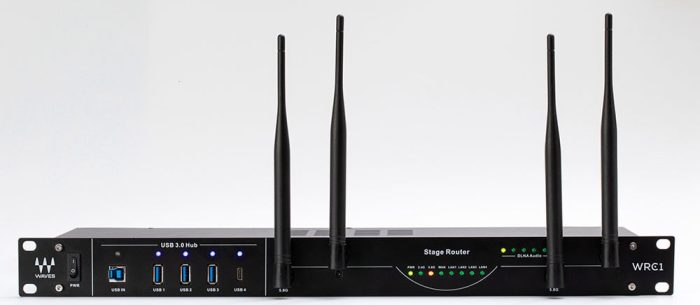 The WRC-1 is ideal for use with the Waves MyMon in-ear monitor mixing app, as well as other audio setups that require secure and robust WiFi connectivity, such as remote control of audio consoles and PA equipment in venues, stage productions, houses of worship, etc., all of which require a robust WiFi router solution. The WRC-1 can also be used in various facilities (corporate, educational, etc.) as a DLNA player for simplified audio playback.
To serve the unique needs of live sound engineers, stage productions and other live audio and AV environments, the WRC-1 offers unique benefits that go beyond standard router features: rack-mountable design, made specifically for audio equipment racks; rugged and robust industrial build; and stronger RF distribution to secure dependable and steady communication.
The Waves WRC-1 comes with basic router management software to control the most common features required by users. In addition, an advanced set of router configuration features is accessible by installing a free advanced firmware package.
WRC-1 WiFi Stage Router features
Rugged 19-inch rack-mountable metal chassis (1U).
Simultaneous dual-band operation (2.4 GHz and 5 GHz).
Five 10/100/1000 (1 WAN and 4 LAN) Gigabit Ethernet portsc
Two pro-grade lockable RJ45 ports + 3 standard RJ45 ports.
DLNA player with balanced analog outputs (XLR L/R).
Integrated USB3 hub with fast charging for mobile devices.
Internal universal power supply.
The WRC-1 is available now for $499 USD.
More information: Waves Audio