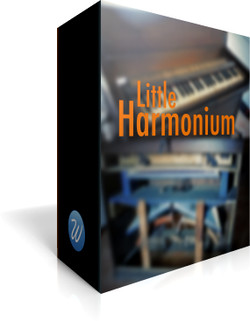 Wavesfactory has launched Little Harmoninium, a virtual instrument library for Native Instruments Kontakt.
We sampled a little harmonium from the late XIX century. The harmonium, or pump organ, is a type of reed organ that generates sound with foot-pumped bellows. This particular organ only has one stop, we created a Facebook album to show you the actual instrument. Click here!

It has 3 optional repetitions (round robin) and 1 velocity layer. The volume of the instrument depends on the amount of air that you put inside using your feet. If you go faster, you can hear the volume changes. That's been modelled inside Kontakt and you can replicate that sound using the modwheel.

Attack, release volume, sample offset, EQ, flip stereo, spread (from stereo to mono) and octave voicing controllabe directly from the GUI.
The sample library costs 9.95 EUR.
More information: Wavesfactory