Wavesfactory has released Brush Drums, a sound library for Kontakt featuring a sampled Yamaha drum kit played with brushes.
This was recorded using 5 mic setup: 1 for bass drum, 2 for snare (top and bottom) and 2 overheads. High quality mics, preamps and converters were used in a complety dry studio environment.

It has 6 repetitions (round robin) and 6 velocities (from soft to strong), but the most important is that on every mic you have the real and natural bleeding of the other parts of the drum. As you can hear on the audio demos, through the mics you can hear exactly what is recorded in a real studio situation. In other words, when you play a key (snare hit, for example), the sound becomes from each of the 5 mics, so there're 5 files playing. Is like having recorded the drum yourself!

With our custom script you can control the volume, pan and tune of each mic like it was recorded in you own computer or studio. It's exciting to play and hear it!
BrushDrums for Kontakt 3.5 or higher is available to purchase for 9.95 EUR.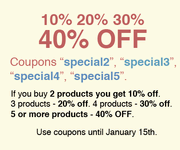 Wavesfactory has also launched a limited time Christmas Offer for up to 40% discount on its sample libraries.
Buy 2 products, get 10% off with code special2
Buy 3 products, get 20% off with code special3
Buy 4 products, get 30% off with code special4
Buy 5 or more products, get 40% off with code special5
This offer is valid until January 15th, 2012.
More information: Wavesfactory