Wavesfactory has announced an update to its Boomwhackers sample library for Native Instruments Kontakt.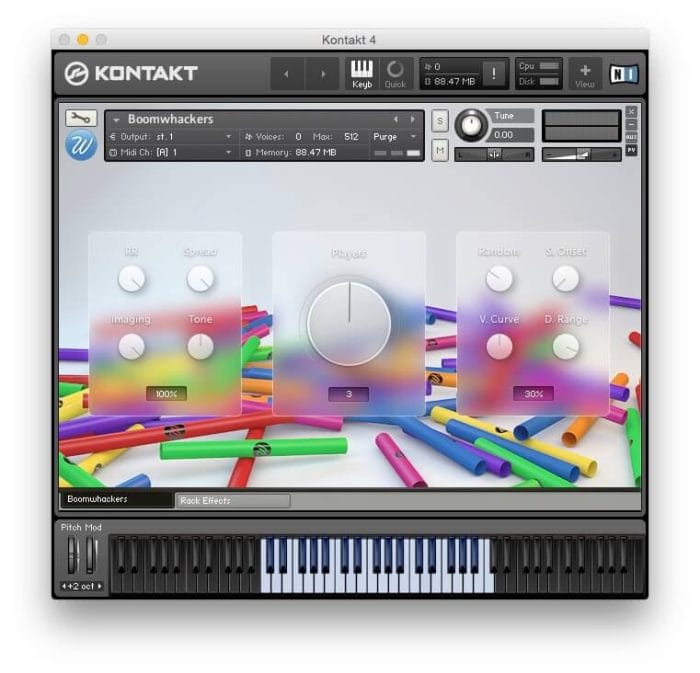 Boomwhackers are lightweight, hollow, color-coded, plastic tubes tuned to musical pitches by length. They produce musical tones when struck together or on the floor or against nearly any surface. Often used by perfomance artists and other musical performance groups to add an element of spectacle. Music educators also use them extensively to teach fundamental concepts in rhythm, harmony and melody. Also used in music therapy.

We sampled 3 octaves of boomwhackers struck on a rubber surface, from C2 to C5. Recorded in stereo in a dry studio environment using high end mics, preamps and converters. 5 velocity layers and 5 round robins (repetitions per note). All samples denoised and normalized to 0dB for more natural feel without intensity jumps.
Changes in Boomwhackers
Rack Effects: This new script lets you add and control up to 12 DSP effects right on the GUI. Convolution with 30 IRs, tempo synced delay, distortion, lo-fi…
Script and GUI: The original Boomwhackers release did not have any GUI or script at all. This release adds a 3D rendered interface and a fantastic script to make it more versatile.
Boomwhackers for Kontakt 4 or higher is available for purchase for 19.95 EUR. This update is free for people who purchased Boomwhackers.
More information: Wavesfactory / Boomwhackers