WaveShaper has released Plasticid Dr-110 and TubeSt8tion kit, two new electronic drum machine sample packs.
The Boss DR-110 is a cute little drum machine from the early 80s, the last analogue one made by Roland.

The overall sound is very reminiscent to the much praised Tr-808 and Tr-606. The kick is punchier than the 606, but the hats and cymbals will provide you that instant acid factor and the snare is also very snappy. The clap is similar to the 808's one, so you're right by thinking that the DR-110 will give you that classic, sought-after sound but with some slight difference and much character.

If you are into electro/house/acid/retro/techno music, you will like this one for sure !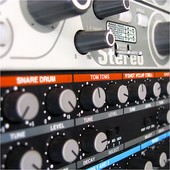 The Plasticid Dr-110 sample pack is available in two versions:
Free: mono, 16bit/44.1khz audio samples.
Pay-what-you-want: stereo, 24bit/48khz audio samples.
The TubeSt8tion kit is a free samplepack (24bit/48khz, stereo Wav files) made using a Novation DrumStation processed through tube preamp and tube compressor gear.
The well-known and beloved sound of the famous tr-808 now has even more warmth, dirt and punch.
More information: WaveShaper