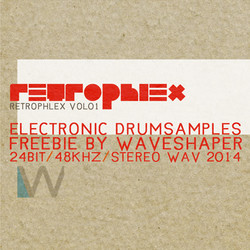 Waveshaper has announced RetroPhlex vol01, a sample pack featuring 48 one shot samples.
The RetroPhlex drumsamples pack is inspired by the sounds of early 90s braindance, electronica and house, featuring electronic sounds coming from analog synths, 12bit samplers and grainy reverbs.

It sounds both futuristic and retro, lofi and punchy, smooth and gritty. It should fit well in your music production, whatever genre it is : acid, idm, electro, house, chiptune, grime, dubstep, juke…
The sample pack is available as "surveyware". You can download it for free for a limited time after completing a (very) short survey.
More information: Waveshaper / RetroPhlex vol01