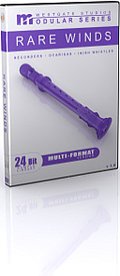 Westgate Studios releases Rare Winds and Harps, two titles in the Modular Series 24 bit sample libraries for Kontakt 2 and Gigastudio.
Rare Winds includes the following instruments:
Sopranino Recorder
Soprano Recorder
Alto Recorder
Tenor Recorder
Bass Recorder
Soprano Ocarina
Tenor Ocarina
Penny Whistle
Irish Whistle
You can check the various included playing styles here.
The Harps module features a Concert Harp and a Celtic Harp with single note samples and a large variety of glissando samples.
Rare Winds is available for $125 USD (DVD), while the Harps module costs $140 USD (DVD).
A download version of Rare Winds costs $70 USD (includes only Alto Recorder, Tenor Ocarina and Penny Whistle) and both the Concert Harp and Celtic Harp can be downloaded separately for $70 USD each.
Visit Westgate Studios for more information.