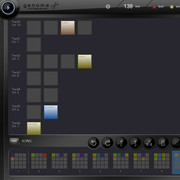 White Noise has updated its Genome MIDI sequencer app for iPad to version 1.0.6.
Genome MIDI Sequencer (GMS) is a pattern based MIDI sequencer. With GMS you can control all of your MIDI gear – sequence single patterns or an entire 16 track song.
Changes in Genome v1.0.6
New: Continuous scrolling.
New: Scales.
New Options: View snapping, note echoing in Pat Ed.
Added MIDI panic button.
Removed quantize config item, use Snap button in Pattern Editor instead.
Fixed various selection issues and inconsistencies.
Editor triplet status now gets saved in Pattern info.
Envelope Draw mode for modifying lengtth, velocity, and timing.
Added UI button for no snapping.
CC select by Value.
Bug fix: Saving the song on leaving the app will now occur in a background task.
Usability: Popup windows – allow click outside to close.
Added URL scheme launching of Genome.
Added snap size text on UI.
Fixed selection / undo crash bug.
Show +/- on pitch bend line.
Added color coding on CC's.
Fixed inability to delete notes outside of the pattern.
Made it easier to tap tiny zoomed out notes (for delete / drag).
The Genome MIDI sequencer for iPad is available to purchase for $12.99 USD.
More information: White Noise Audio / Genome