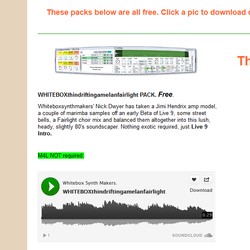 Whitebox Synth Makers has announced the release of WHITEBOXthindriftingamelanfairlight, a free sound pack for Ableton Live 9.
Whiteboxsynthmakers' Nick Dwyer has taken a Jimi Hendrix amp model, a couple of marimba samples off an early Beta of Live 9, some street bells, a Fairlight choir mix and balanced them altogether into this lush, heady, slightly 80's soundscaper.

Nothing exotic required, just Live 9 Intro.
The sound pack is a free download.
More information: Whitebox Synth Makers