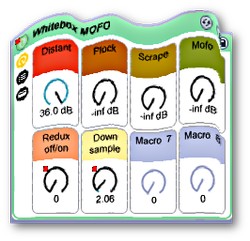 Whitebox Synth Makers has released the Mofo Pack, a free sound library for Ableton Live.
Four separate sounds that work together or singly, or in any combination you choose. I've taken a metallic sample with a long reverb as a bass pad, a glassy marimba edit to provide mid-range attack, a dark and nasty Tension string-scrape for edge and finally, the MOFO itself.

This is a jazz guitar with a twangy resonator/filter balance to give it a funky keyboard flavour reminiscent of a clavinet. All four sounds can then be treated with a redux/downsampler variant to give the mix a "tuned-in on shortwave radio" edginess. Listen to the demo below and you'll realise the appealing combination of near and far atmospheres capable with this thing. Nothing exotic needed, just Live 9 Intro.
The pack is a free download at Whitebox.
Visit Whitebox Synth Makers for more information.