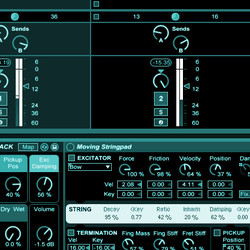 Whitebox Synth Makers has announced Tenser 2, a free drone instrument for Ableton Live Suite.
A remix of the old Tenser rack I made last year, aimed at being an interesting drone producer, if such a thing is possible… This has the addition of Rainbow FX 2 which features Erosion, Resonator, Vocoder, Grain Repeats, Glue, Ping and Corpus.

Listen out for that creaking bass on the demo. All the sounds apart from the drum loop were made with this rack.
Tenser 2 is a free download. Live 9 Suite required.
More information: Whitebox Synth Makers