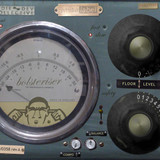 whiteLABEL has announced the release of the bolsterisers, a collection of naive dynamics family effect plug-ins for Windows.
The bolsterisers hark from a time before compression as we now know it. A long-obscure English experimentalist engineer and gentleman scientist by the name of Edwin Pierfax III derived the naive design of the original bolsteriser during an afternoon nap with his cat, Tiswold.

Fast-forward nearly ninety years and the bolsterisers are reborn in digital form. Unbeknownst to Pierfax, his devices survived well into the twenty-first century, and when recently discovered in Saint Pulcher's museum of Combat Curiosities just had to be examined. After various component-level tests, it was decided to power-up the devices and take some measurements with a view to recreating these fantasy beasts in software – and here they are in their equally naive digital implementations – 5 variations all-told – each offering a slight twist on Pierfax's original concept.
The whiteLABEL bolsterisers are available to purchase in a group buy for the introductory price of £10 GBP for the first 100 people to join.
From 16 November, 2010 (or after the group buy reaches 100 participants), the bolsterisers will only be available for their standard retail price of £15 GBP each.
Free mono versions of the plug-ins (VST 32bit Windows PC) are available to download from the whiteLABEL website.
More information: whiteLABEL