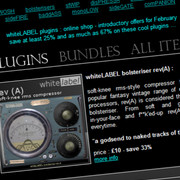 whiteLABEL has announced a February Sale in celebration of its new online shop.
I've just added a new online shop to my site, so to celebrate I'm having a bit of a sale with a minimum 25% discount on everything and I'm introducing some bundles with discounts of upto 67%
whiteLABEL February Sale
Individual plugins

:

25% off: baddASS disPRESSA stwETCH simpleTON and stWIP(XL)
28% off: SKWOSH
33% off: autoBED monoLOW comPANION sideFIRE stWIP(FULL) and single bolsterisers

Bundles

:

pack C : C is for Creative – simpleTON disPRESSA and stwETCH – save 33%
dirtyPACK : you want some ? of course you do. simpleTON, bolsteriser rev(F) and sideFIRE – rip your audio to pieces whilst saving 37%
smackPACK : bolsteriser revs (D) and (F) with baddASS and simpleTON – put some meat on the bones of your drums with a 40% discount
radioPACK : 3 tools to up your game in radio production – save 44%
bolsterisers : all 6 of these "steampunk compressors" – yours at a 50% discount
pack E : E is for Everything – 18 whiteLABEL plugins reduced by 67%
The sale is available through February, 2011.
More information: whiteLABEL / February Sale