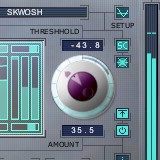 whiteLABEL has announced the release of SKWOSH, a multi compressor effect plug-in for Windows.
Hot on the heels of the whiteLABEL bolsterisers, SKWOSH is the test-rig used during development of the bolsterisers …

SKWOSH, is a versatile compressor offering 4 main modes of hard and soft; compression and signal-boosting. Envelope following comes in a choice of peak or 2 RMS modes with optional peak-hold and simple or complex follow modes.
SKWOSH features
Envelope : peak / rms1 / rms 2 …
Operation : hard knee / soft knee / hard boost / soft boost.
Sidechain : internal or external (2 stereo inputs).
Key filter : lp / bp / hp : 6/12/18/24 dB/oct – 80hz to 8khz.
Lookahead : 1,2,5,10,20,40ms with additional match / half / double modes.
Character : clean / static drive / dynamic drive – with controls for filth level and drive factor.
Output limiter : on / off.
Chain audition : on / off.
Input / output flip : 1&2 / 3&4.
Output wet / dry mix control.
SKWOSH is available to purchase as a VST effect plug-in for Windows for £25 GBP. A free demo (light) version is available as well.
Members of the bolsterisers group buy, which currently includes 6 bolsteriser plug-ins, get a free copy of SKWOSH. The group buy is still available limited time (only 20 places left) for just £10 GBP.
More information: whiteLABEL