Wide Blue Sound has released version 1.1 of Orbit, an update to the company's revolutionary Orbital Synthesizer instrument for Native Instruments Kontakt.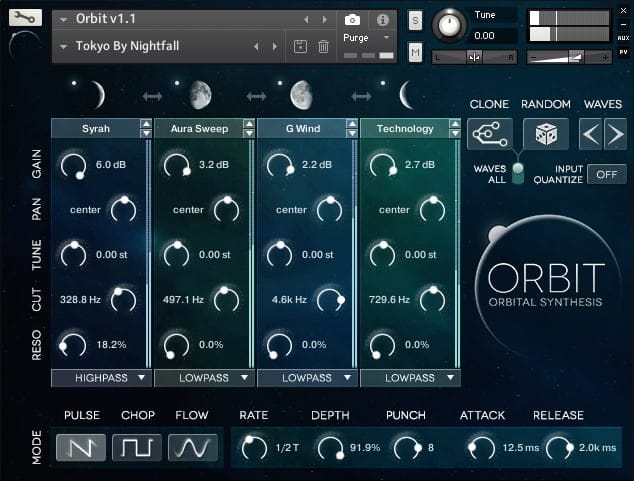 ORBIT is being lauded by producers and composers worldwide for its bold, no-nonsense approach to musical synth design. ORBIT's acclaimed interface brings to your fingertips a universe of cinematic, production-ready sound in the form of pulses and distinctive musical pads & atmospheres. Its revolutionary sound-morphing engine creates sounds that infinitely evolve, while retaining the musicality that drives modern cinematic music. ORBIT's sounds range from light and shimmering to dark, mysterious and edgy. Don't miss the synth that Harry Gregson-Williams (The Chronicles of Narnia, Kingdom of Heaven, Shrek) calls "distinctive and inspirational" and Jack Wall (Mass Effect, Call of Duty) proclaims as "gorgeous and meaningful".

In this release, ORBIT becomes a Kontakt Player library, gains compatibility with external remotes, and boasts significant new features and workflow enhancements – enabling users to create new, unique sounds faster than ever before.
Changes in Orbit v1.1
Added: ORBIT now runs in the free Kontakt Player! It also now adds to the Kontakt Library tab, and features an easier install. (The factory snapshots folder is now in the main ORBIT folder.)
Added: Assigned NRPNs to most parameters; enables external control from OSC, Lemur, etc.
Added: Input Quantize: Select a quantize value, and notes and chords will always start perfectly in time. Preview exactly what your pulses and chops will sound like, without needing to first record & quantize in your DAW.
Added: Micro-tuning: Holding shift when adjusting an ORBIT's tuning allows for cent-adjustments.
Added: A new ALL switch that makes CLONE and RANDOM affect the Orbit Parameters as well. This allows for even quicker experimentation!
Added: Several new sequencer processes.
Improved: Naming of some existing sequencer processes.
Improved: Timing of certain sequencer destinations.
Improved: GUI enhancements.
Many small improvements, tweaks and minor bugfixes. Full change list available.
Orbit is available for purchase for $150 USD for a limited time with discount code DEFY_GRAVITY at checkout (MSRP $200 USD). Further discounts are available for students and educators with a valid Student ID.
More information: Wide Blue Sound