Wilkinson Audio has announced that its ZomBass 4 virtual bass guitar instrument for Native Instruments Kontakt is free for a limited time.
ZomBass 4 offers the sounds of the Corvette $$ 5-string bass guitar by Warwick.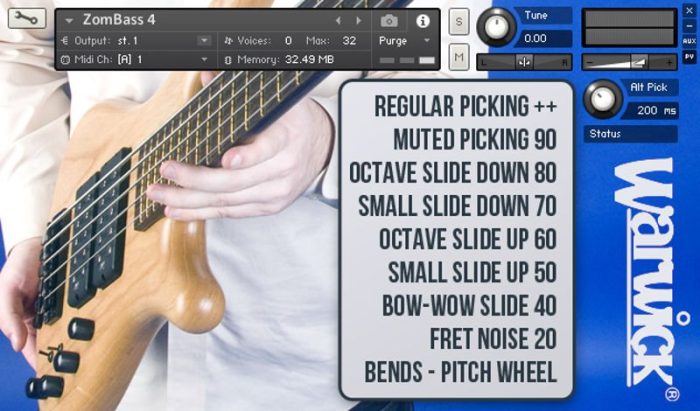 ZomBass 4 features
Sponsored by Warwick bass guitars.
Warwick 5 String Corvette $$ Bass Guitar.
Bass Guitar Virtual Instrument.
Requires Kontakt 4 (fully updated)/5.
D'Addario Nickel Wound Strings.
Intelligent Alternate Picking.
Sampled across the board from A0 (Drop A) up to E4.
Instrument will pitch shift down to even lower tunings.
Custom Bends Performed by Midi (Pitch Wheel).
Interface controlled (quickly) by midi velocity instead of (slow) key switches.
Great for rapid prototyping / writing.
ZomBass 4 is available for free until July 1st, 2017. The regular price is $25 USD.
More information: Wilkinson Audio / ZomBass 4