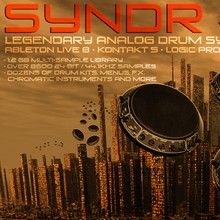 Millertone Soundware has announced an Industry Survey, offering you the chance to win the upcoming SynDr Vol 1 analog drum synth sample library for Kontakt, Ableton Live and Logic Pro.
This questionnaire is designed to help us get a better understanding of our potential customers and the type of products and services we should be focusing on. It takes around 10 minutes to complete. The survey will be closed on Thursday, September 13 at midnight EST.

Participants that complete the survey will be invited to enter into a draw to win a copy our first release, SynDr Volume 1 – Legendary Analog Drum Synth. The prize will be awarded when we officially launch Millertone in November.

SynDr Volume 1 is a multi-sample library that places the beauty and warmth of a true analog legend, the Star Instruments' Synare, into the hands of the modern music producer. Venturing well beyond the ubiquitous synth-tom sounds used on classic disco and progressive rock hits of the 1970's, the SynDr Volume 1 multi-sample library offers complete multi-velocity drum kits and menus (kicks, snares, toms, fx, etc…), as well as chromatic instruments such as basses, lead synths, keyboard, and other synth sounds. Each sound was recorded with up to 8 velocity levels and triggered with absolute consistency from a DAW via an external input retrofitted to the Synare. The range of sound is truly immense.
More information: Millertone