Evan Merz wrote in to let me know about his latest videogame/music project, a compilation of unsigned indie rock designed for play in GTA IV.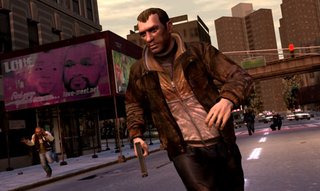 Over the last month Evan scoured the internet for indie rock by unsigned acts, that is perfect for Grand Theft Auto (GTA) games. He found an incredible wealth of talent, contacted about 50 bands good enough to be included, and eventually assembled a terrific indie rock radio station.
Evan writes:
First, lining up all the bands for the station was a painstaking process. I listened to hundreds of crappy bands and sent emails to about 50 bands who were good enough to be included. Of these, about half responded, and about half of those were eager to be included in this type of project. The funny thing is that I expected 'worse' bands to be more interested in being included, but it turned out to be just the opposite. Only the really good bands had their act together enough to recognize the opportunity for free publicity. So the resulting list is incredible. Every single one of these bands is worth listening to, and I honestly love every track here.
The WLCI station inlcudes songs by Triggers, The Rooftops, We Are The Fury, The Bombers, Annabel, Teeth of Mammals, The Libertines, Kingsfoil, The Turnbull ACs, Stem, The Vinyltones, Aaralyn, and Beware Fashionable Women.
WLCI even features a script with things like traffic updates using in-game locations and streets, just like the the regular radio stations.
The whole production runs for 60 minutes, and every track is hand-picked to be perfect for high-speed chases.
Visit ThisIsNotALabel.com for more information and a link to download the mp3.