Wobblophones has announced Splash, a unique water sound library for Native Instruments Kontakt that is like a liquid piano that drips and streams out of your speakers.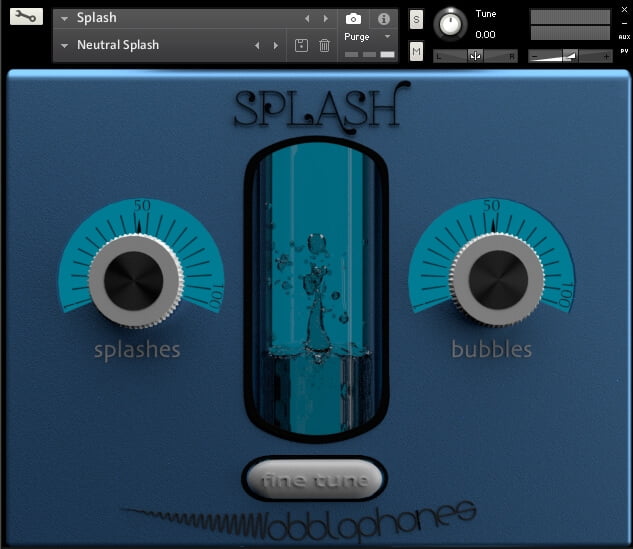 Splash includes two virtual instruments with sounds that evoke vivid imagery, adding an almost visual dimension to your music and sound design. Three octaves of tuned falling drops and streams of water were recorded for this library.
With the Splash instrument you control the splashiness of the drops and streams. The Splash instrument can also increase and reduce the bubbles in the water. Splashiness and bubbles are visualised in an animated, easy to use and fun interface. The Splash instrument has three octaves of chromatically tuned drops and streams.

When you want to dive deeper, you can use the fine tune panel for making incredibly detailed adjustments.

Using the built-in effects you can further fine tune Splash's sound or completely transform what you hear.

Nebulon Splash is an advanced granular sample player that splits all water samples into small grains. One drop can be enough for Nebulon Splash to create oceans of atmospheres, pads, textures and sound effects. Nebulon Splash comes preloaded with all sounds from the Splash instrument, and a collection of extra high-quality recorded water sounds. For creating aquatic rhythmical patterns, Nebulon Splash has a built-in sequencer.

With the effects controls, located on the FX panel, you can tweak Nebulon Splash's dynamics with the compressor, color the sound with some EQ, bounce the sounds with the delay, and add a good amount of lush reverb.
Splash features
Splash virtual instrument

3 octaves, chromatically tuned.
5 round robins.

Nebulon Splash virtual instrument

all 3 octaves from the Splash instrument.
extra water samples, especially recorded for Nebulon Splash.

57 snapshots.
333 MB of precisely recorded drops, streams and other water samples.
Drop and stream samples recorded at 44.1 kHz, 24 bit.
Extra water samples recorded at 96 kHz, 24 bit.
A splashin' library that sounds like a liquid piano and much more.
Splash for Kontakt 5 or higher (full version) is available at a 15% introductory discount until October 20th, 2017. The regular price is $55 USD/50 EUR/£44 GBP.
More information: Wobblophones / Splash