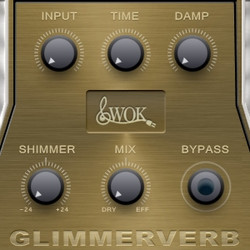 WOK has released Glimmerverb, a reverb effect, and Backplayer, an audio reverser effect for Windows.
Glimmerverb by WOK is an VST effect plugin for long reverb tails with shimmer effect.

It is made for really long and deep reverbs, and the pitchshifter in the reverb engine takes care of the shimmer effect sound.

BACKPLAYER plays back your audio with the touch a button. Up to 2 measures (8/4) can be fed into it. Audio is passed thru, pressing the button will start backwards playing immediately until you release it. Great for live effects. Plugin can be automated or controlled by MIDI CC.
Glimmerverb is available for 7.50 EUR. Backplayer is part of the Backpack bundle (incl. Instaback, Refo-D, and Tapebrake), priced at 5 EUR. All plug-ins are in Windows 32-bit VST format.
More information: WOK