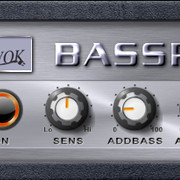 WOK has released BassPlus, a low frequency enhancer effect plug-in for Windows that .
BassPlus is an enhancer for low frequencies. Intended for drums, but works on other signals too of course. It's not a fixed EQ, but has a detector for lower frequencies and enhances them and/or adds a new subtone to it.

Adjusting the amount of bass frequencies as well as the extra bass volume and frequency is quick and easy, the plugin can even be used in the end mix.
BassPlus for Windows (VST) is available to download as freeware.
More information: WOK