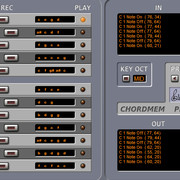 WOK has announced the release of ChordMem Pro, the enhanced version of the free ChordMem MIDI chord memory and trigger plug-in for Windows.
It features 12 Chords per preset to be recorded and then played back by the single keys of an octave or the buttons of any MIDI controller.

Each chord may consist of up to 12 notes. Play complicated chord progressions with the tip of one finger, with drumpads or any other MIDI controller.
ChordMem Pro
12 chords per presets, 128 presets.
6 notes per chord.
Velocity-sensitive playback.
Chords are played by the single keys of one octave, octave is selectable.
Other notes are passed thru.
MIDI input and ouput.
Controllable by MIDI CC.
ChordMem Pro is available to purchase as a VST plug-in for Windows, priced at 6 EUR.
More information: WOK