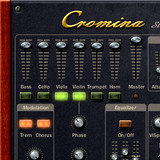 WOK has releasedCromina String Machine, a virtual string machine synthesizer plug-in for Windows.
After more than one year of development we are glad to present you this physical modeling recreation of the electronic strings sound of the 60s and 70s. Solina, Crumar and Logan where the names, which made it first possible for bands to bring a string orchestra on stage or into the studio. The lush sound of these electronic keyboards stamped many songs of this era.

The soundwise peculiarities of the frequency divider circuit and the BBD modulation section can not be successful recreated by sampling. So we developed a plugin with the main emphasis on the reproduction of this typical influence on the sound. Though the drawback is a higher CPU load, it absolutely gives a much better reproduction of the original sound.

Although this plugin has it's focus on the typical Solina sound (including a phaser and delay effect), it can produce a wide range of typical sounds by using the integrated equalizer, vibrato, envelope variations (including a piano envelope) and other tuning controls.
Cromina String Machine is available to purchase as a VST instrument plugin for Windows PC, priced at 37 EUR.
More information: WOK