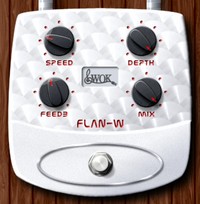 WOK has announced the release of FLAN-W, a free flanger effect plug-in for Windows.
Flangers are known as a guitar effect for a long time. They were later also used for drums or vocals.

FLAN-W is a free flanger effect for Windows VST hosts. The speed, depth and feedback of the effect can be adjusted in a wide range.
FLAN-W is available to download at no cost.
More information: WOK