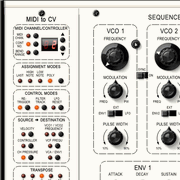 WOK has released SAM (Sequencer Addon Module), a recreation of the famous Oberheim™ SEM analogue synth module.
Our goal was to catch the typical analog sound of the original hardware emulating circuit instabilities, while leaving some limitations behind; so the plugin is polyphonic, allows more than one MIDI modulation source, has an extra LFO for pitch (reacting on the mod wheel) and a noise oscillator.

But besides this extensions, the plugin is following the simplicity and sound options of the original. Clear layout, easy to use, full sound.
SAM for Windows (VST) includes 64 presets, and is priced 41 EUR.
More information: WOK