WOK has announced the release of UNCLE SAM, the extended analog synth module plugin for Windows.
With the VST plugin SAM in 2011 WOK released a virtual version of the famous Oberheim SEM module.

UNCLE SAM now is the new, bigger version with more features, like different filter types and an FX unit.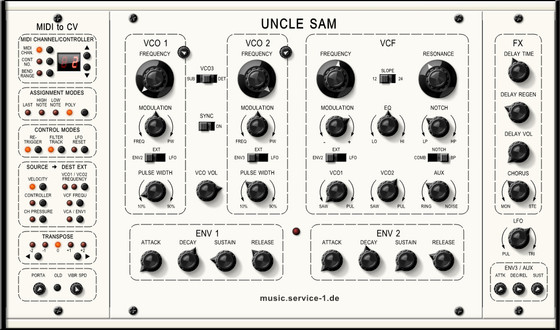 Uncle SAM features
Modelled after the classic Oberheim design.
MIDI functions and mod matrix like the new MIDI SEM module.
OSC sync.
Ring modulator.
Delay with host sync.
Dual chorus (Roland style).
Stereo detuner/chorus (Superwave style).
Full-fledged envelopes.
Third (sub) oscillator.
Extra envelope for ringmod/noise/VCO mod.
Filter blend between LP-HP and Comb /Notch / BP.
LP/HP/BP filter switchable between 12db / 24db.
Polyphonic.
UNCLE SAM for Windows (VST) is available for 58 EUR.
More information: WOK