Wolfgang Palm has announced the release of PPG Phonem, a vocal synthesizer instrument plugin for Windows and Mac.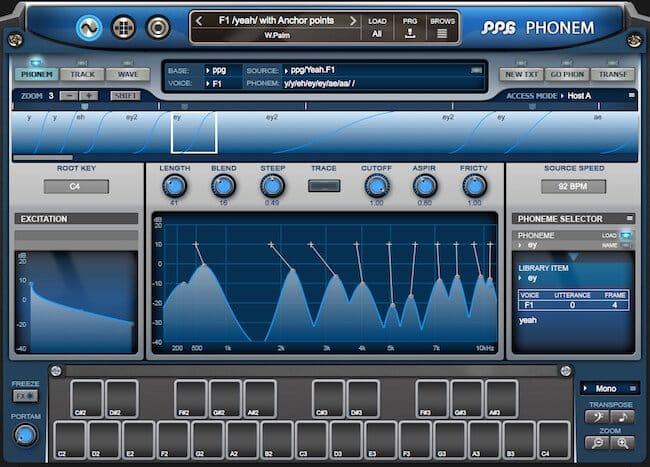 PPG Phonem lets the user create expressive vocal synthesis beyond anything ever heard before. With its advanced routing system every aspect of the voice can be controlled and modulated in any conceivable way. Anything from a quiet whisper to a scream. Use the intuitive text to speech tool to make Phonem say whatever you want.

Although the PPG Phonem was originally designed to do just vocal synthesis, it turned out that the system is also capable of producing a wide range of universal synthsizer sounds. So we extended the parameter ranges and made everything accessible to the user, to take advantage of this fact.
PPG Phonem features
Create your own singing style.
Create your own expressions.
Large Phoneme inventory – 46 english/american plus 5 german plus 4 french phonemes.
Versatile excitation generator/oscillator.
Working with typical voice source or wavetable and time-corrected-samples (TCS).
Extreme time stretching, freezing and reversing.
Pitch track – let your robots sing.
Control track – let it cry and shout.
Song mode – making it easy to compose your synthesized text.
Wave page – create your own wavetables and modify time-corrected-samples.
All internal parameters available to the user – give your voices a special dialect or individual character.
Versatile matrix system – allowing 19 sources to control 40 parameters.
Two X/Y control pads freely routable to 40 parameters.
6 Envelopes, for control of filter sweeps, waveform, noise and many modulations.
4 LFOs plus Vibrato, Flutter and Growl generators.
Fully programmable resonator filter – allowing production of new sound effects.
Delay/Reverb effect.
Overdrive/Distortion effect.
Directly accessible context help for each module.
Freely configurable schematic keypad, with extremely expressive modulation options.
Ribbon controller to bend the pitch to variable intervals.
5 Keyboard Modes including mono, legato and voice-per-channel.
Import WTS and TCS files from WaveGenerator or WaveMapper 2.
PPG Phonem (VST/AU) is available for purchase for 119 EUR.
More information: Wolfgang Palm / PPG Phonem