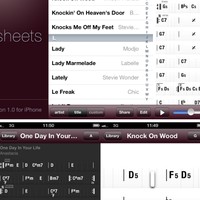 wysiwyg* software design has announced the release of Chord Sheets, an iOS app for pop sheets in easy-to-read sheet notation including all verses, bridges and refrains.
More than 300 of the most important pop songs of the 1970s up to the current charts in the form of accessible chord sheets – from Donna Summer to Alicia Keys, ideal for all band musicians and all harmony instruments to accompany singers.

Create your own set lists and transpose the songs in the key of your singer.

The songs are easy to edit and add to, then send to your fellow musicians by email or bluetooth.

You can listen to a sample of the song and make changes without deleting the original as Chord Sheets always keeps a copy.
The app is available to purchase for 4.49 EUR.
More information: Chord Sheets