Xenakios has released the first Atelier series module for the VCV Rack virtual Eurorack DAW. Palette is a reworking of the Mutable Instruments Plaits and Audible Instruments Macro Oscillator 2 module.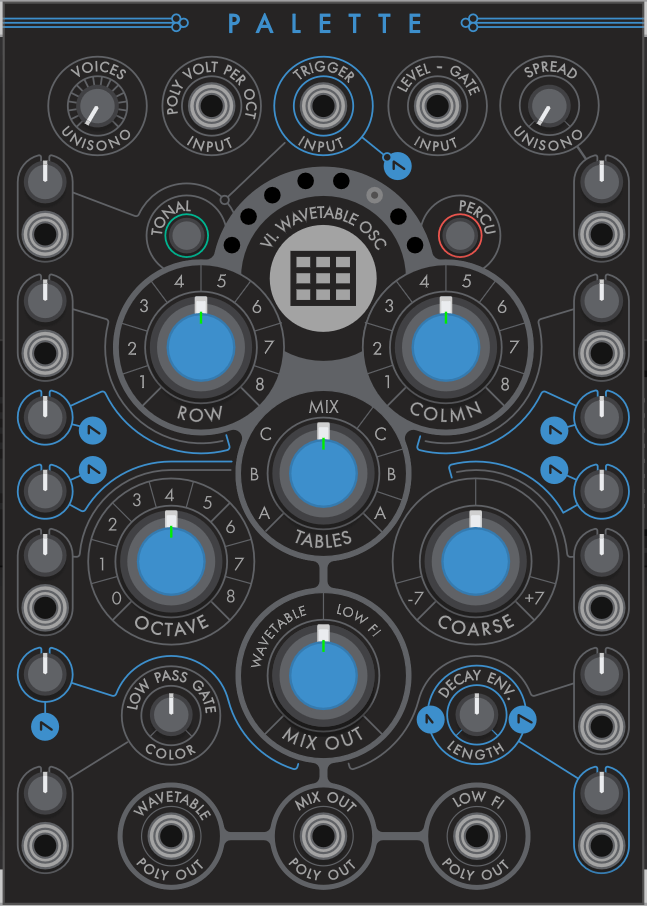 Based on Mutable Instruments Plaits and Audible Instruments Macro Oscillator 2 with code from Emilie Gillet (Mutable Instruments), Andrew Belt (VCV), anlexmatos, Xenakios and other contributors.
Palette features
Polyphonic.
Dynamically changing panel that changes according to the chosen synthesis engine.
Exposes (nearly) all of the parameters of the Plaits engine directly on the module panel.
3rd audio output that outputs a mix of the main and aux output signals, with a mix parameter.
Internal envelope control of all the 3 main synthesis parameters and the output mix parameter.
Attenuverters for all parameter CV inputs.
Unisono/Spread mode that generates detuned/spread pitch polyphony of up to 16 voices from a mono volt/oct input (1).
Parameter CV and internal envelope modulations are visualized on the large knobs (can be turned off from the right-click module menu if distracting or uses too much CPU/GPU).
Engine can be chosen by clicking on the engine LEDs.
Engine choice CV modulation shown on the engine choice LEDs.
Octave stepped coarse tuning knob (can be switched to free mode in the right-click module menu).
Atlier Palette is available as a free download from the VCV Library.
More information: VCV Rack