Xenobioz has released an update to Lynx, a virtual synthesizer instrument for Windows.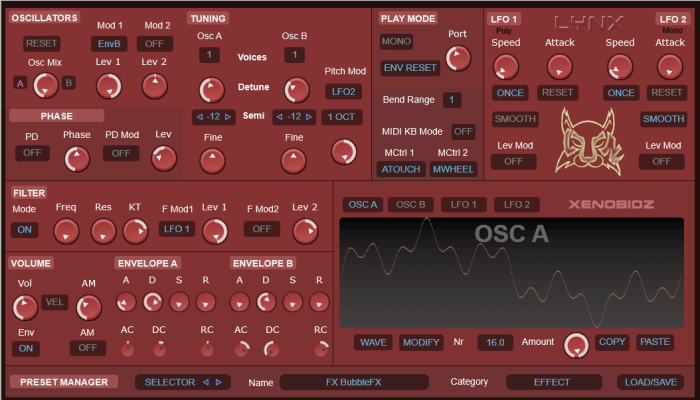 Lynx is a synthesizer with 2 Unison oscillators with 7 voices each and 14 combined. It features a powerful wave editor that lets you draw and modify all the waveforms for both Oscillators and LFOs.

Lynx is made by custom modules coded in C++ especially for Lynx. Therefore it uses a lot less CPU than Most of the older xenobioz VSTs. The waveform editor is also far superior to all of the earlier xenobioz VSTs and is both easier to use and more powerful.
Lynx is available as both 32 and 64-bit vst.
Changes in Lynx v1.04
Fixed Scrolling through Presets bug.
Fixed sound on low A and pitch modulation.
Fixed Center+Normalize.
Fixed Additive copy, and more.
Tidied up and organized the wave and modify menus.
Made startup preset to an init preset.
Added Binary Noise, Metallic and Voxel waves.
Added Phase Distortion Modifier.
Added Set Sample Value.
Added copy Nth Sample.
Lynx is available as a free VST instrument for Windows.
More information: Xenobioz