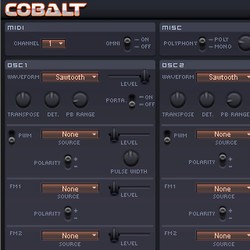 Xenos Soundworks has released Cobalt: Hip Hop Collection, a collection of presets for Leslie Sanford's Cobalt synthesizer plug-in.
The Hip Hop Collection contains 101 brand new presets for Rap, Soul, RnB, Crunk and more. All the classic synth sounds are in there, plus a few that dare to step outside the box, giving your beats that unique identity to set you apart from the others.

The majority of this bank's sounds are tailor made to be played at slower tempos. As many of the presets are synced to your host's tempo, try setting your host tempo to 100 bpm or less for best results.
Cobalt: Hip Hop Collection is available as a download for $3.99 USD.
More information: Xenos Soundworks / Cobalt: Hip Hop Collection