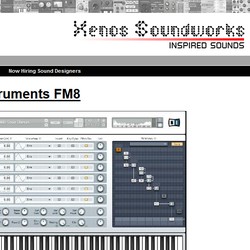 Xenos Soundworks has announced the release of CyberRasta, a soundset for the FM8 software synthesizer by Native Instruments.
Did you know FM8 was the synth Skrillex used to make his basses with?

'CyberRasta' is a collection of 50 patches for Native Instruments FM8, containing searing wobble basses, devastating drops, hair rasing screeches, with the addition of leads, pads and sound effects for your dubstep and dnb productions.

Each patch has the modwheel and X/Y pads assigned for maximum expression. The soundset ships in both KSD and NFM8 formats.
The soundset is on sale for $5.95 USD.
More information: Xenos Soundworks