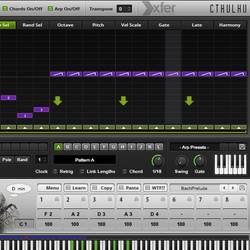 Xfer Records has released version 1.0.1 of Cthulhu, a chord and arpeggiator MIDI fx plug-in for Windows and Mac.
Cthulhu is firstly a chord memorizer and player, allowing you to experiment with creating and reworking chord progressions with single-note presses.

The other half of Cthulhu is a unique pattern-based arpeggiator, allowing incoming notes or chords to be manipulated in various rhythmic ways.
Changes in Cthulhu v1.0.1
AAX Support, both 32 and 64, for ProTools 10.3 or later.
MIDI FX version of Cthulhu for Logic X – no more IAC needed.
MIDI latching option (switch at top) to auto-legato (sustain).
Type-able values for notes/velocities.
Chord "Watcher" (Eye switch) to monitor which chords are triggered.
Shift-click learn switch = learn with timer: chord will not be learned until the chord is held down for 1 full second.
Shift-click on piano to trigger chord; alt-shift-click to do both functions (change to a different chord slot and trigger it).
New diatonic chord presets are designed to make writing in any key quick and easy.
Cthulhu for Windows and Mac (VST/AU/AAX) is available to purchase for $39 USD. The update is free for existing owners.
More information: Xfer Records / Cthulhu