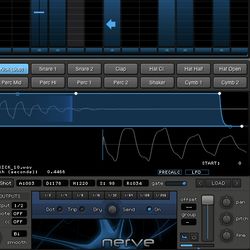 Xfer Records has released version 1.1 of its Nerve drum synthesizer instrument for Windows and Mac.
Nerve is a software drum machine which brings powerful beat creation and manipulation to your Host Sequencer. Nerve runs as a VSTi or AudioUnit plugin. Nerve was designed and coded by veteran dance music producers, with a diverse sample library included from many of todays top sound designers.
Changes in Nerve v1.1
64-bit support (VST/AU/AAX).
ProTools AAX32 and AAX64 support (ProTools 10.3.5 or later).
Drag-and-drop pattern button (A-L) to export MIDI to host.
Drag-and-drop pad to host (source wave file).
Drag-and-drop pad + Shift + Control + Alt: render all to a new wave file in host.
Drag-and-drop pad + Control + Alt: renders pattern of dragged pad as wave file.
16 stereo outputs.
Pre-calculated 4-band parametric EQ per-pad.
Pre-calculated plate reverb per-pad.
Pattern randomize ('R' button).
Pattern hybridize ('H' button) creates new patterns based on existing loaded patterns.
Option to follow Host notes note-length / note-offs choke the sound.
Type-able values for all controls (text entry appears with double-click).
Mouseover help for all controls (when mouse is hovered for 1 second).
"MIDI Note Off Chokes Pads" option now stores gate values to Sequencer.
Option Menu: "Gate Only alters Hold time" (to maintain other envelope length.
Improved panning law.
Command: Explode Loop to All Pads – converts a loop pad to all 16 pads as one-shots, with pop-up to choose between 'stretched' render, or raw loop.
Command: Generate Pattern from Loop Timing – Creates notes + Late-Graph offsets for a loop file, based on the loop slice points.
Command: Convert back to OneShot (so One shots can be stretched-to-tempo with the various settings / loop-stretching algorithms).
Alternate OpenSoundControl build + template, for Lemur users.
Alternate TouchOSC build + template, for TouchOSC users.
Alternate Korg PadKontrol build which automatically detects and connects to the PadKontrol.
Screen redraw improvements (hardware accelerated graphics).
Support for dragging from Cubase Media Bay, fixes for dragging files from StudioOne browser.
MIDI Key names in piano roll support, for hosts which allow it (e.g. Reaper/FL Studio/ StudioOne).
Additional MIDI CC controls.
Dozens of bug fixes.
Nerve is available to purchase for $199 USD. The update is free for existing Nerve users.
More information: Xfer Records / Nerve