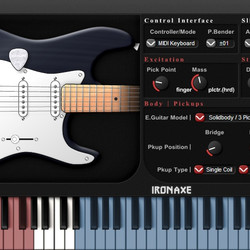 Xhun Audio has released version 1.7 of its IronAxe guitar plugin, bringing a wide range of improvements, introducing several features and bug fixes.
This is one of the most important IronAxe updates ever, because it brings an improved String Behaviour Engine, it introduced the StringsToucher Engine (known as 'PurpleKeys Engine' in the dev stage), and many improvements and fixes that some users asked in the passed months.
Changes in IronAxe v1.7
The String Behaviour Engine has been updated to version 2.0, improving realism and physics accuracy when simulating strings' geometry and energy dispersion over time.
The KeyStrummer Engine/Mode has been sensibly extended and its name has been changed to KeyPerformer Engine/Mode.
Introducing the StringsToucher Engine (formerly known as 'Project PurpleKeys', accessible through the KeyPerformer Mode): play/touch each of the 6 virtual Electric Guitar strings individually and in true real-time, for true-to-life arpeggios using only a standard MIDI Keyboard.
The MIDI Data paths/routings have been partially redesigned, improving performances and stability for all IronAxe's internal MIDI Engines.
Full MIDI Assignments for all GUI Parameters and Controls. Everything is now visible in the DAW Host/s for an easy and quick access using external MIDI hardware controllers.
The Finger Sliding Techniques have been extended also to the QuickStrums Engine (MIDI Keyboard controller Mode) and to the KeyPerformer Engine/Mode (including StringsToucher Engine), improving realism when performing real-time strums, arpeggios and articulations.
The Room Simulation Engine has been updated, allowing real-time modulation.
Factory presets have been slightly adjusted/updated.
Minor improvements on the DSP and GUI side.
Partial low level code replacement on the DSP side.
Xhun Audio has also launched a Summer sale, offering up to 33% discount on all its products and bundles.
More information: Xhun Audio