Xhun Audio has released version 2.9 of LittleOne, an analogue modeling synthesizer for Windows.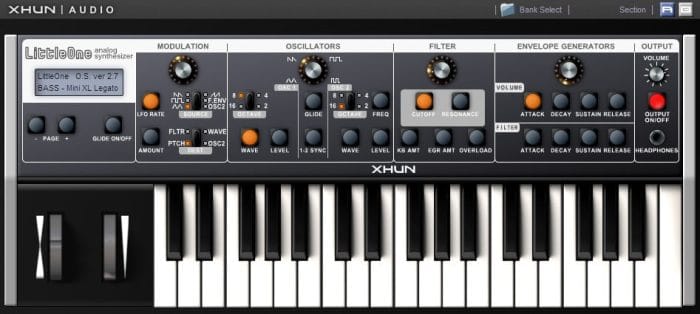 LittleOne version 2.9 brings several improvements on the DSP side for both sections; the Synthesizer (analogue components non-linear behaviour), and the Rack/FX (X-TREME, REEVERB, FLANG-R).
Changes in LittleOne v2.9
Non-linear behaviour simulation has been improved for all Analogue Components.
Improved Oscillator 2 feedback path (used as OSC2 modulation source).
Filter Overload has been redesigned from the ground up.
Rack/FX Section : X-TREME Tube Distortion Unit has been redesigned from the ground up, improving accuracy and usability.
Rack/FX Section : REEVERB Reverb Unit has been redesigned from the ground up, featuring also an additional low pass filter, for advanced sound shaping possibilities.
Rack/FX Section : FLANG-R engine has been fixed.
All factory presets (300+) have been updated/adjusted.
Some fixes and improvements on the GUI side.
CPU-hit has been improved.
64-bit VST3 (beta version) available for all Registered Users/Customers.
Big Steps Expansion/Soundbank (sold separately) has been updated.
The update is free of charge for all registered customers.
Xhun Audio has also announced the launch of the Summer Deal Special Offer 2015, offering up to 33% off on all products and bundles until August 31st, 2015.
More information: Xhun Audio