Xhun Audio has released an update to its LittleOne analog modeling synthesizer instrument for Windows and Mac.
Version 3.0.5 offers improvements and bug fixes for problems that occurred with certain Hosts and/or Operating Systems.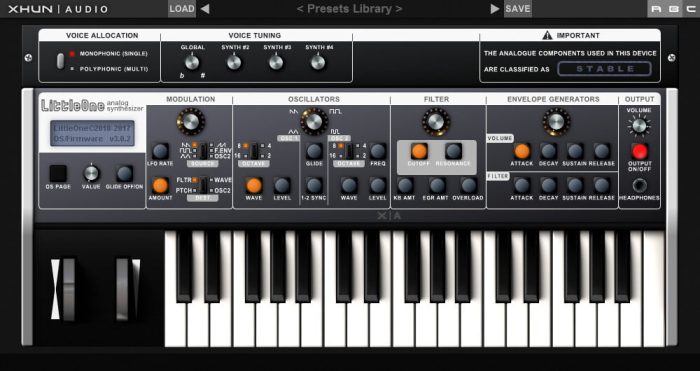 This update improves stability when using LittleOne for music production scenarios. It is important to reload LittleOne in a Host/DAW (just once, after the plugin update), if it has been used in previous tracks/projects.
Changes in LittleOne v3.0.5
Presets engine: on certain Hosts/DAWs, current synth state was not 100% preserved when saving a project (at project reload, the Host/DAW loaded the previous preset on the list, instead of the current/modified one). Now this is FIXED.
GUI: on certain Hosts/DAWs, Panel C was auto-switched/selected at first run and/or at reset. Now this is FIXED.
Bonus Pack expansion (free add-on) was not correctly detected when installed and it was not possible to select presets using the presets menu. Now this is FIXED.
Demo version mode: sound is now interrupted every 60 seconds, instead of 30 seconds.
Demo version mode: the interrupting signal is now less loud.
LittleOne version 3.0.5 update is available now for download from Xhun Audio website. This update is free of charge for all registered users.
More information: Xhun Audio / LittleOne