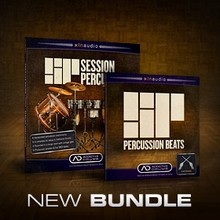 XLN Audio has announced the release of the Session Percussion ADpak, a selection of handpicked percussion instruments combined as a creative suite for Addictive Drums.
Everything in Session Percussion was specifically selected and recorded to work as a regular kit within Addictive Drums, combining the playability of a standard drum kit with the exotic sounds of percussion instruments to maximize compatibility and creative beat construction. Use the whole kit as it is, as a second instance or combine selected kit pieces with another kit.

This ADpak is extremely versatile and is perfect for almost any genre or production style. Go from vintage drum kit sounds to Hip Hop/RnB to Latin Pop/Rock to straight up weird. The included presets and beats offer a great variety of mix ready sounds combined with superb beats making it easy to find the right elements fast.
The Percussion Beats MIDI Pak was made with the Session Percussion ADpak in mind, and some beats make use of the congas and timbales in that ADpak. However the basic beats and grooves can be used with any of the kits in AD or any ADpak.
Whether you need complete arrangements, busy beats or just a percussion compliment on top of another beat this is the perfect tool to find the right elements fast. The beats and songs reach from old school funk and soul to modern dancehall riddims.
All beats are made with many different variations and layers opening up for unique beat construction possibilities.
The ADpak costs 59 EUR, the MIDI Pak is 19 EUR. Both are also available in a bundle for 69 EUR.
More information: XLN Audio