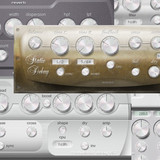 xoxos has released the Effects Suite 2010, a bundle of effect plug-ins for Windows.
This bundle is an assortment of standard audio VST effects.. delays, a reverb, filter.. produced for various reasons. The reverb is intended to be a cpu-economising solution for when Ambience VST is too much.. a modulation delay and multiband equaliser provide oversampling for my own applications.. a modulated filter plugin I've been using for years.. a filtered static delay that crossfades between stereo and ping pong settings, and a phaser just for the experience of coding a phaser..

Perhaps one or two of these effects may be appealing to most users. For the sake of enterprise I've bundled the lot of them at a current price of $10. Why anyone would pay for basic effects is beyond me, however should you choose to purchase the bundle, you'll find an extra "fun surprise" effect included – the happy meal, or sugary breakfast cereal of consumable VST effects packages.
The xoxos Effects Suite 2010 bundle is available to purchase for Windows PC (VST), priced at $10 USD.
More information: xoxos